Trail Stewardship
Yuba Expeditions loves the trails, and we put that love in the form of McLeods, mattocks, shovels and FUNdraisers!
 Yuba Expeditions is owned and operated by the Sierra Buttes Trail Stewardship, a non-profit dedicated to building and maintaining multi-use trails in Sierra and Plumas counties and beyond!
Net proceeds go directly towards improving and expanding our trail system for all to enjoy. You can feel good about doing business with Yuba Expeditions, knowing that your money is put right back into the trails!
Check out what we accomplished since 2004!
114 miles of NEW trails built
1,479 miles of trails maintained
113 trail projects completed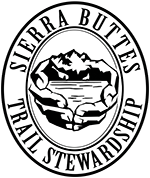 Get more the Sierra Buttes Trail Stewardship infomation by clickity here.