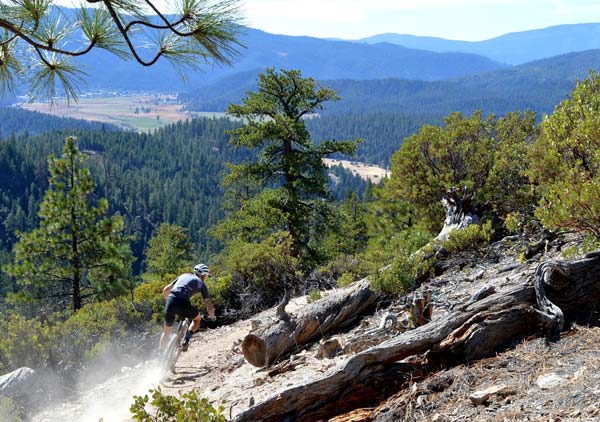 Mt. Hough Trails in Quincy
Completed in 2015 by our parent organization, the Sierra Buttes Trail Stewardship, Mount Hough trail is 12 miles and 3,800 vertical feet of singletrack flow, speed, beauty and amazing dirt (especially after some rain). Starting at 7,200 feet elevation above the emerald blue waters of Crystal Lake overlooking Genesee Valley, Mount Hough trail is fun for all ages and skill levels, featuring perfectly banked switchbacks, high-speed sections of trail with long sight lines, tabletop jumps for those who love air time and a perfect finish at a swimming hole on Spanish Creek. And because Mount Hough was built with California OHV funds, it can also be ridden on an ebike.
Whether you shuttle with friends, shuttle with Yuba Expeditions or earn it the old fashioned way by pedaling, the best way to the top is by taking Mount Hough Road (bumpy dirt road passable by car in summer months) from Quincy Junction/Chandler Road all the to the top. At the bottom of the singletrack at Oakland Camp, after crossing the railroad tracks, keep heading downhill on pavement to the swimming hole before the bridge over Spanish Creek on Oakland Camp Road, which is a great place to start and finish from.
---
Mt. Hough
on
Trailforks.com
Trail Information and Conditions
Summer 2021
August 1st, 2021
Sadly, many trails on Mt. Hough have burned due to the Dixie fire and the Plumas Forest is closed. Please stay out of the forest.
This is devistating to us, the forest and the community, but we will help the trails rise from the ashes. And you can help, stay tuned.
Spring 2021
May 26th, 2021
Mt. Hough and local trails are fully open and have been cleared.

May 24th, 2021
We got some snow last week, but it melting off fast and soon to be gone. The moisture is welcome creating hero dirt!
May 14th, 2021
Mt. Hough Trail is open from the top!
April 27th, 2021
We got more snow, but it is melting fast and creating hero dirt conditions. Mt. Hough could be open top to bottom in the next few weeks.
April 15th, 2021
The snow is melting fast, and is up above 5500'. SBTS has been clearing and maintaining lower elevation trails on Mt. Hough.

Winter 2021
February 1st, 2021
Lots of snow, call the shop for when lower elevation trails open.
January 12th, 2021
All lower trails are open and running great! Upper elevation trails are under snow.
South Park: OPEN
Super fun cross country area at the base of Mt. Hough between Spanish Creek and Chandler Road. South Park has punchy climbs and fast flowy descents through manzanita and oak corridors. The shaded Cascade Trail meanders along Spanish Creek past huge doug firs and several nice swimming holes. It also crosses two bridges that pass above Class V rapids. A great ride for families!
Mount Hough: OPEN
Riding conditions are the best they've ever been thanks to recent trail work by SBTS crews and volunteers removing shutter bumps and totally buffing the trail out! Shuttle to the top of the final singletrack downhill timed segment of Grinduro and practice your dropbar descent bike handling skills.
Berry Creek: OPEN
Old school moto trail. Starts down a fun manzanita corridor with playful woops then turns into more technical narrow singletrack with loamy corners and high speed sidehilling. Finishes on old roadbed at the base of the Mount Hough Trail, then crosses Tollgate Creek to Oakland Camp

Indian Falls Ridge : OPEN
Amazing views, sculpted berms, and interesting rocky features make this one not to be missed.
Indian Falls Ridge 2 (IFR2): OPEN
Nice option off of Indian Falls Ridge.
North Tollgate: OPEN
Singletrack that follows an old roadbed with fun berms.
Use this as a climb to get up Hough if you don't want to take the dusty road or the usual downhill.
Bucks Creek Loop (near Bucks Lake Wilderness): SNOW
Chill 3.5mi loop through alpine meadows and mature doug fir and cedar forests near Bucks Lake. Start from Bucks Summit down the south side of the loop and return to your car on the north side of the loop. Or start from the Mill Creek trail head and ride up the North side of the loop and down the south side of the loop. Don't forget to stop at the Lakeshore Resort for wood fired pizza and cold drinks on Bucks Lake.
Mill Creek Trail (near Bucks Lake Wilderness): SNOW
Mellow out-and-back along Bucks Lake with great swimming opportunities.
Gravel Rides
Waiting for the snow to melt to access these high alpine gravel rides:
Mt Hough
Claremont
Snake Lake
Butterfly Valley
Indian Valley
Round Lake Reservoir
Butt Reservoir

Click to view larger
Top of Mt.Hough at 7,200ft with Mt. Lassen in the background.
Yuba Expeditions Builds and Maintains These Trails
Yuba Expeditions is owned and managed by Sierra Buttes Trail Stewardship. The proceeds from Yuba Expeditions go directly back into building and maintaining these trails. By taking our shuttle, or purchasing product from the shop, you are supporting the trails we all enjoy.
These trails are maintained by the Sierra Buttes Trail Stewardship in partnership with the Forest Service and other volunteer trail groups. Many of these trails are maintained as part of the Adopt-a-Trail Program administered and organized through the Sierra Buttes Trail Stewardship. The trail adoption program ensures that each individual trail receive regular maintenance and upkeep, each season.
The Stewardship also hosts monthly Trail Daze volunteer work days, these work days account for more than 30,000 volunteer labor hours on historic, multiple-use, and motorized multiple-use trails. If you enjoy riding high country trails in the Sierra Buttes region, then join us; as a volunteer, as a member, as a steward.