Downieville Trail Conditions and Information
Follow our Facebook or Instagram feeds to get trail conditions and deals directly from us.
We rent top-of-the-line Santa Cruz bikes and Santa Cruz ebikes, rent one from us and know that proceeds go back to the trails you love to ride. Also, take your first rides in Downieville and our expert mechanics will help you set-up and tweak the bike for maximum performance - that day!
Summer 2021
September 16, 2021
Forests have re-opened!
September 2, 2021
Forests are closed due to fire danger, and limited rescue support. Please stay out of the forests.
August 1, 2021
No fire and no smoke in the Downieville region. Come and get it!
Spring 2021
June 30th
All trails open!
May 26th
Downieville Downhill:
- Snow on Sunrise Trail keeping it closed
- Pack Saddle Flow Trail open from top to midpoint, then drifts below. Best to ride to midpoint, take the short singletrack that connects back to the road, ride the road for 1/4 mile then back onto the Butcher Ranch singletrack on the right.
- Butcher Ranch singletrack and OHV road - open with some drifts to just below The Gorge that are melting fast, otherwise wide open and in excellent shape
- First, Second and Third Divide - wide open and grippy conditions with rain over last weekend
Pauley Creek:
- Unknown but likely drifts and a few downed trees
Gold Valley Rim Trail:
- Unknown but likely drifts and a few downed trees
Big Boulder
- Unknown but likely drifts and a few downed trees
Mills Peak Trail:
- Road to the lookout tower is open and snow free
- One tree down about 1/4 way from the top but otherwise in perfect shape
Lakes Basin:
- Still a fair amount of snow in the Basin
- Will be a few more weeks before Mount Elwell and others are open
- Lower trails open but not logged out yet so downed trees may exist
May 24th, 2021
We got some snow last week, but it melting off fast and soon to be gone. The moisture is welcome creating hero dirt! Still a few drifts and Sunrise is still under snow, but it should melt off within the next week or two.
May 14th, 2021
Packer Saddle is open from the top! There are snow drifts and Sunrise is still under snow.
April 27th
Snow is melting fast. 3rd Divide is amazing right now. Snow on Packer Saddle. Packer Saddle might be open Mid-May with the low snow depth.
April 16th
3rd Divide is open and you can go 1 mile up Big Boulder as well.
April 7th
On Second Divide Trail in the Downieville system, our crew has already cleared over 30 fallen trees and continues to get Second Divide ready for sweet single-track action.
March 29th, 2021
Clearing and maintaining Halls Ranch, running good.
March 4th, 2021
On Thursday the 4th we spent a day in Downieville doing log out on North Yuba, Halls Ranch and Fiddle Creek Ridge. There were only a handful of down trees on Halls and Fiddle but we cleared about 40 trees off of North Yuba between Downieville and Indian Valley. Most of the trails were clear of snow to around 4500 feet but today there is about 6 inches of new snow at my house in Quincy.
Downieville Area Trails:

Sunrise - 1.9 miles - OPEN
Gold Valley Rim Trail - OPEN
Butcher Ranch - 4.0 miles - OPEN
Pauley Creek - 3.5 miles - OPEN
Big Boulder - 3.2 miles - OPEN
Third Divide- 2.8 miles - OPEN
Second Divide - 6.1 miles - OPEN
First Divide - 3.4 miles - OPEN
North Yuba -15.8 miles - OPEN! We fixed the slide!
Downie River - 3.5 miles - OPEN
Herkimer Mine/Bunker Hill - 2.7 miles OPEN
Rattlesnake Creek - 3.2 miles OPEN
Lavezzola Creek - 5.1 miles OPEN
Fiddle Creek Ridge - 6.0 miles - OPEN
Halls Ranch - 5.0 miles - OPEN
Chimney Rock - 4.8 miles - OPEN
Empire Creek - 2.5 miles - OPEN
Graeagle/Lakes Basin Trails:
Mills Peak - OPEN
Tamarack - OPEN
Upper Salmon - OPEN
Sierra Buttes - OPEN
Sardine Lake Overlook - OPEN
Oakland Pond - OPEN
Mt. Elwell - OPEN
Round Lake - OPEN
Bear Lakes Loop - OPEN
Grassy Lake Trail - OPEN
Long Lake - OPEN
Gray Eagle Creek - OPEN
Smith Creek - OPEN
Jamison - OPEN
Surrounding Area Trails:

Trail Work
Every year we clear, log out and repair the trails we love so much. The Sierra Buttes Trail Stewardship trail crew goes through the trails top to bottom with the focus of eliminating braking bumps and rain ruts. We put dirt back in the trail where water and or traffic has moved it. This work involves pick, shovel, McLeod, Pulaski and compaction by hand and with a plate compactor.
3rd Divide Before
3rd Divide After
1st Divide Before
1st Divide After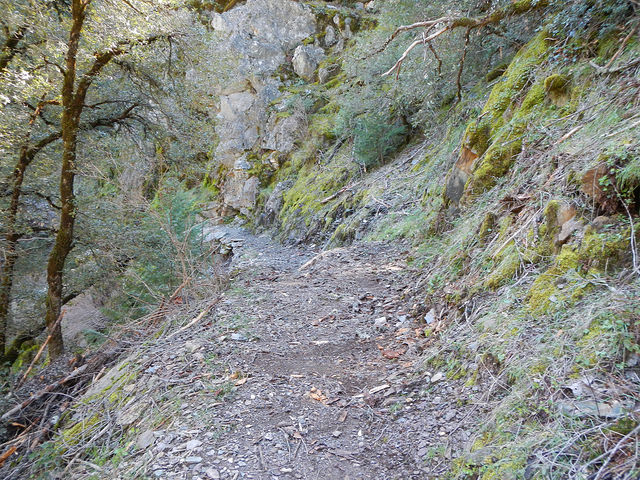 Big Boulder Before
Big Boulder After
Yuba Expeditions Builds and Maintains These Trails
Yuba Expeditions is owned and managed by Sierra Buttes Trail Stewardship. The proceeds from Yuba Expeditions go directly back into building and maintaining these trails. By taking our shuttle, or purchasing product from the shop, you are supporting the trails we all enjoy.
These trails are maintained by the Sierra Buttes Trail Stewardship in partnership with the Forest Service and other volunteer trail groups. Many of these trails are maintained as part of the Adopt-a-Trail Program administered and organized through the Sierra Buttes Trail Stewardship. The trail adoption program ensures that each individual trail receive regular maintenance and upkeep, each season.
The Stewardship also hosts monthly Trail Daze volunteer work days, these work days account for more than 30,000 volunteer labor hours on historic, multiple-use, and motorized multiple-use trails. If you enjoy riding high country trails in the Sierra Buttes region, then join us; as a volunteer, as a member, as a steward.